Stay fresh with the new Jordan toothpaste
There is little that beats that fresh feeling after brushing your teeth. We are now expanding our range with a completely new Jordan toothpaste series to help you maintain fresh breath. All the products are developed with a special Stay Fresh™ technology for clean teeth and fresh breath.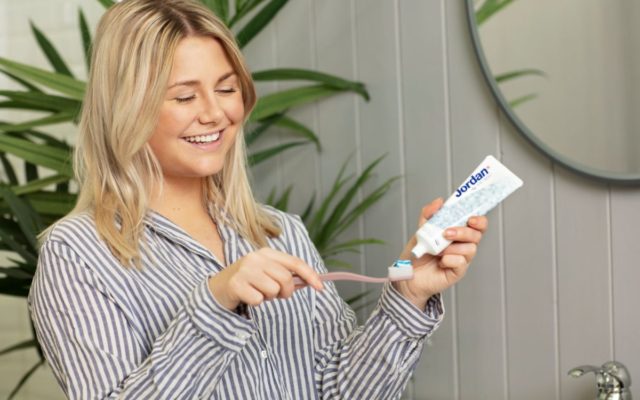 STAY FRESH™ TECHNOLOGY
Jordan Stay Fresh™ toothpaste includes tailor-made products with a unique combination of ingredients that cleans your teeth and gives you fresh breath. This new technology is called Stay Fresh™ and is a combination of fluoride + xylitol, which provides you with extra protection against plaque and makes your teeth stronger, and zinc + mint which gives you fresh breath. The new Stay Fresh™ series can be easily recognised by its duo-colour.
FACTS ABOUT THE VARIANTS
Jordan Fresh Breath has an advanced formula, which fights bad breath effectively and leaves your mouth feeling fresh for up to 12 hours. First of all, it has an additional amount of zinc, which actively reduces bad breath. In addition, the flavour contains the component Optafresh®, which has been clinically proven to reduce bad breath. The Jordan toothpaste is gentle on the enamel.
Jordan White Smile contains a specially developed combination of ingredients for proven stain removal. As a result, the toothpaste effectively removes daily stains like coffee and tea for naturally whiter teeth. The Jordan toothpaste is gentle on enamel.
Jordan Caries Defense is a toothpaste with a mild, yet fresh taste. This toothpaste differentiate from the others by containing a much higher level of xylitol (9,9%). Furthermore, the combination of fluoride and Xylitol gives you stronger teeth and better remineralisation compared to fluoride alone – all this to make this a superior anti-caries protection. The Jordan toothpaste is gentle on the enamel.
KNOW THE INGREDIENTS IN YOUR TOOTHPASTE
Fluoride works to strengthen your teeth, prevent tooth decay and repair cavities in the early stage.
Xylitol is a natural sweetener extracted from birch wood. Combined with fluoride, it gives better remineralization and protection against caries than a toothpaste with only fluoride.
Zinc is proven to fight bad breath.
Mint gives you a fresh feeling after brushing your teeth.