How to choose the right toothbrush for your kid
Do you know how to choose the right toothbrush for your kid? With such a wide variety to choose from, determining which toothbrush is best for your little one's oral care isn't always instinctive. With Jordan, you can choose the toothbrush for your child's age, so it's easy to pick one and even easier to use.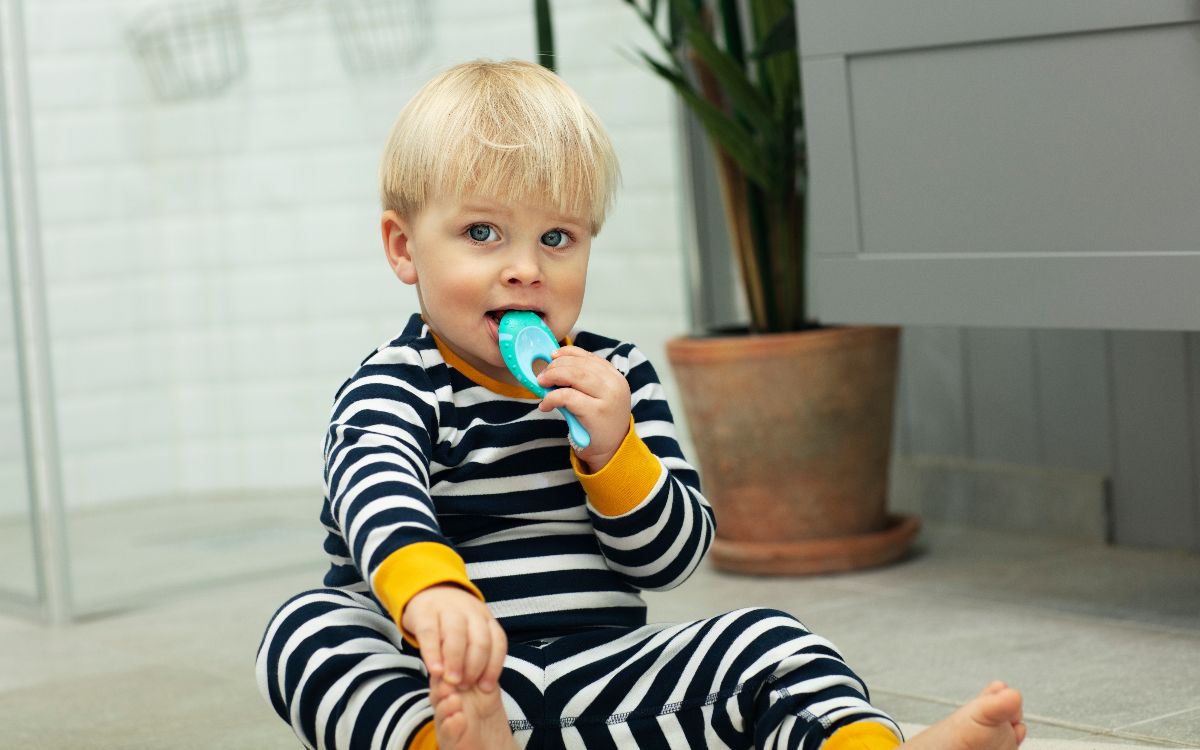 Once your child is ready for a proper toothbrush, Jordan has options for all ages to help you choose the right toothbrush for your kid. A brushing routine should be incorporated into your child's day from an early age – even before they get their first teeth! This means when your baby is first born, you can start using your finger to wipe any build up on their gums. This not only helps the gums, but also gets your baby ready for their first tooth brushing experience.
Jordan Toothbrush 0-2 Years
In about six months, they will begin to develop their first baby tooth. You can then start incorporating a small toothbrush into your routine. The Jordan Toothbrush for ages 0-2 years helps get your baby used to brushing their teeth while making the experience as stress-free as possible for you both. With its strong, contrasting colors, the small head of the brush contains soft bristles and an ergonomically designed grip. As such, brushing is not only easy effective, but also stimulating.
The brush also has a colored area on the bristles, which indicates how much toothpaste you should apply for a child between the ages of 0 and 2, per the recommendations from the Norwegian Board of Health. Usually, this is a drop of toothpaste about the size of a pea.
The handle of the brush was designed to be a safe teething tool that your baby can chew on. Chewing on safe toys like this can ease teething pain, which is often accompanied by itchy gums. In addition, the brush has a short neck between the head and the handle, preventing the brush from being inserted too far into the mouth and endangering your little one.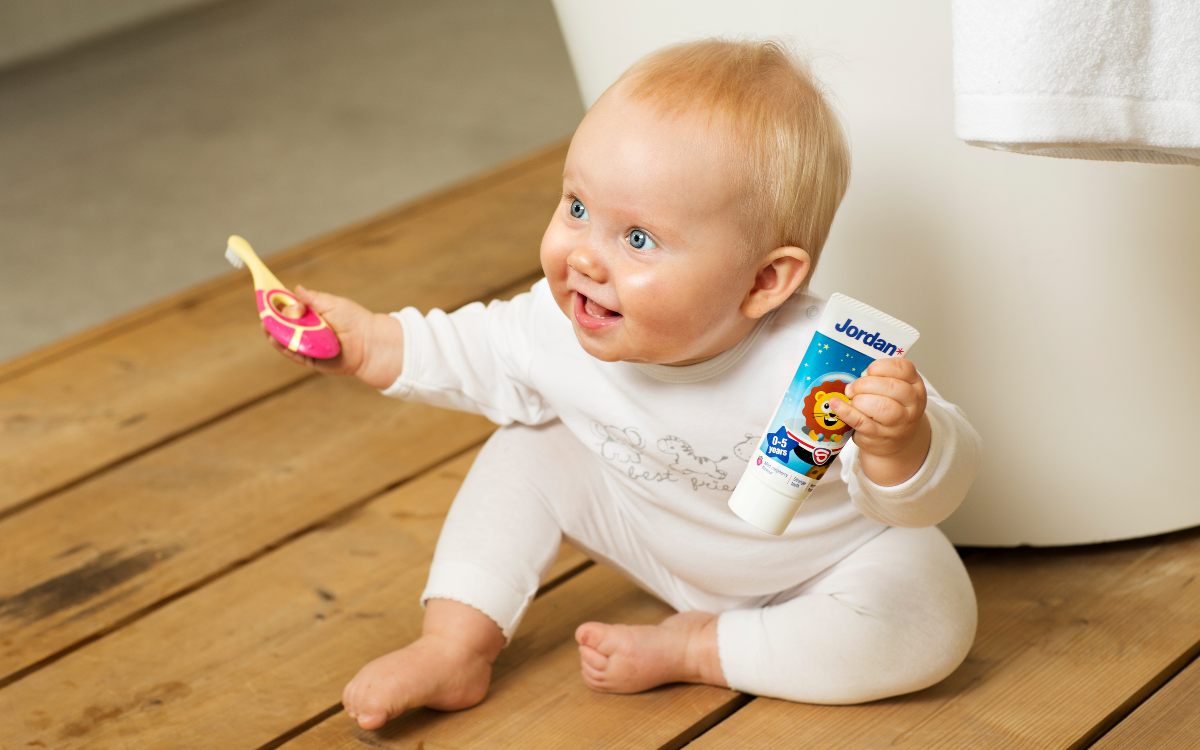 Jordan Toothbrush 3-5 Years
The Jordan Step 3-5 Years is adapted for children in this age range who have smaller mouths and teeth but are no longer teething. The toothbrush is made with a small, soft head that ensures gentle cleaning of their baby teeth. This toothbrush also has an integrated indicator for the optimal amount of fluoride toothpaste.
Children at this age are interested in a variety of things, and want to explore new things that cross their paths. To meet this need, all toothbrushes are delivered with an exciting additional product that varies over time. For example, our Stage 3-5 toothbrush, might come with a practical travel cap or a holder with an hourglass. These add-ons help make brushing more interesting. It also motivates both parents and children to invest in time into their brushing routines.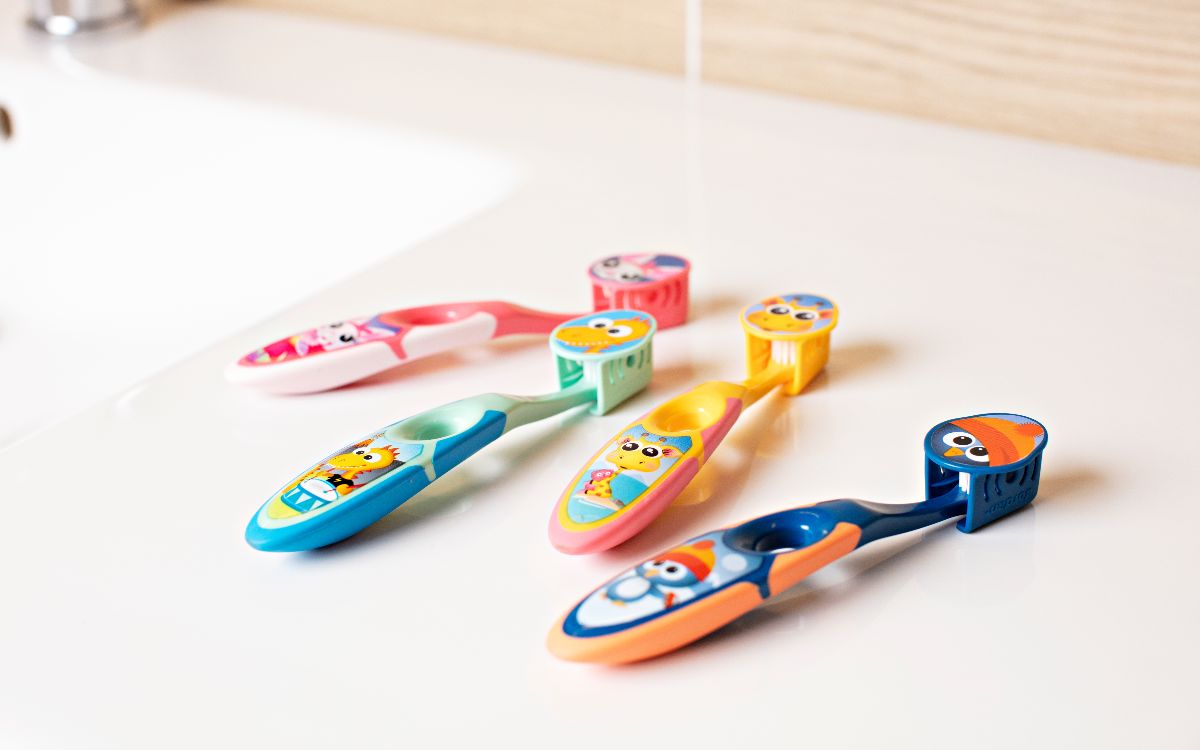 Jordan Toothbrush 6-9 Years
When children turn six, they begin to understand the importance of brushing their teeth. They also want to do everything, including this daily routine, by themselves. The challenge for these kids is to brush properly, so that they reach all of their teeth, from baby teeth to their new permanent teeth.
Children in this age group have varying teeth sizes due to their mixture of baby and permanent teeth. Therefore, their toothbrushes require more bristles to better adapt to the uneven tooth landscape. The Jordan Step 6-9 Toothbrush uses a round dense head of bristles for to meet this challenge. In addition, it has an integrated "solo brush," known as ActiveTip. This toothbrush for your kid ensures the best possible cleaning of molars and difficult areas between teeth and gums.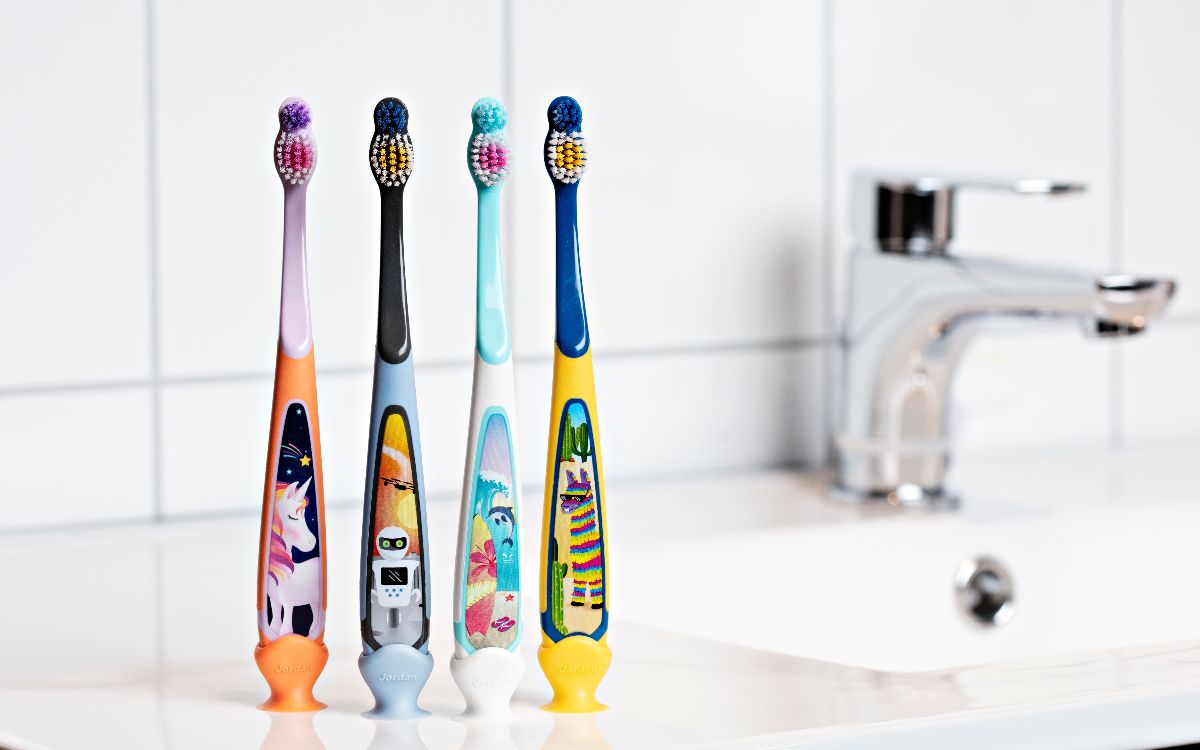 Green Clean Kids
Another possible toothbrush for your kid is the Jordan Green Clean Kids Toothbrush. This is great for older kids who are young enough to need a smaller toothbrush head but old enough to not require additional toys or teething handles. Further, this is ideal for kids with parents who use the Green Clean brush. This will enable them to copy their parents good brushing habits and care for the enviornment.
Like the Green Clean adult brushes, the Green Clean Kids brush has a recycled plastic handle. Additionally, its plastic bristles are made from a renewable source and is sold in a box made from recycled cardboard. Green Clean Kids has a smaller head adapted to children's mouths (age 5-10 years).