Environmentally Friendly Oral Care Habits
There are several environmentally friendly oral care habits that can be easily implemented into your routine. Here are some helpful suggestions to get you started with making conscious choices.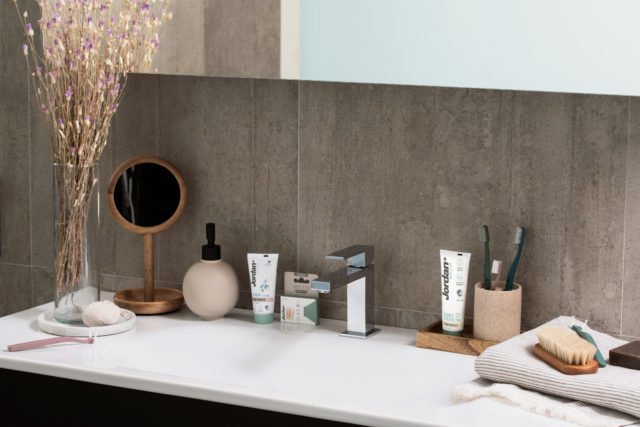 At Jordan we believe that taking steps towards a more sustainable way of life is a responsibility we all share. However, it is not always easy to know where to begin in order to make more environmentally friendly changes to one's life. Why not start with your daily oral care habits? Here are some simple tips to start you off on your sustainable journey.
Turn off the tap
Turn off the tap whilst you are brushing your teeth to save water. This is an easy way to cut down on your water usage. The same tip applies when washing your hands. Turn the water off whilst massaging the soap into your hands. Imagine how much water you will have conserved after only a few days.
Make environmentally friendly choices when shopping
The next time you buy a new toothbrush, why not go for a more sustainable option such as the Green Clean toothbrush? The handle is made from 100% recycled plastic. The source of this material is food containers such as yoghurt cups, making it safe for use in your mouth. Jordan has also created other environmentally friendly oral care products, check out the whole range here.
Disposal of oral care products
When you have used up one of your dental products make sure to check how they should be disposed of before throwing it away. Mixing unrecyclable plastic and recyclable plastic may result in it all being burned along with regular waste or sent to a landfill (1). Different countries and cities have different rules, so check with your local area for guidance.
Share your environmentally friendly oral care habits
Why not include your loved ones in your effort to make more conscious choices. Share your great tips and encourage them to try them out too. A final suggestion is to ask around. Your friends and family might have some other helpful suggestions of environmentally friendly oral care habits. We can all work together to make more choices with the environment in mind.
Source:
Tan, K, E. (2018, November 12). One piece of contaminated plastic can taint the whole recycling bin.

The Straights Times.

Link to page. Accessed December 3, 2020.