Oral Hygiene for when you have Dentures
If you have replaced one or more of your teeth with dentures it is important for you to maintain good oral hygiene habits. This will help avoid any dental issues and keep the prosthetics in place. Also, check in with your dentist regularly to check whether your dentures have to be refitted.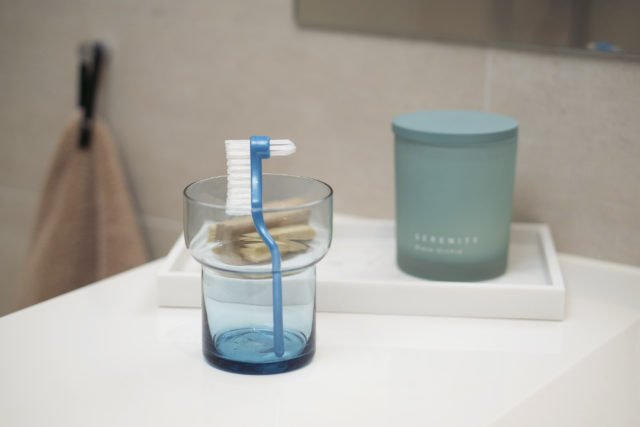 Dentures are prosthetics that are used as a replacement for missing or bad teeth. They are designed to function as and look like your own natural teeth. Just like your natural teeth dentures need to be cleaned and taken care of, to ensure optimal oral hygiene.
CLEANING DENTURES
Even though you cannot get cavities in your dentures it is still important that they are cleaned regularly in order to avoid infections such as oral thrush. Therefore, you should brush your tongue and gums with a brush specifically designed for dentures. This will help prevent build-up of plaque and simulate circulation in your gums. Additionally, proper oral hygiene will help prevent bacteria growth, which can cause gum irritation and even bad breath.
Jordan Clinic Denture Brush ensures effective cleaning of both partial and complete dentures. It is ergonomically designed with two heads to help reach all surfaces. The large brush head helps clean larger surfaces. On the other hand, the smaller brush head helps clean the more hard-to-reach areas. The sturdy handle is designed to make the brush easy to manoeuvre, even for those with reduced dexterity.
REMEMBER TO CLEAN OFF DENTURE ADHESIVE
In some cases, adhesive is needed in order to ensure placement of dentures. If that is the case for you it is important that you remember to remove the residual adhesive before reapplying. Read the instructions that are provided with your denture adhesive carefully.
OTHER MAINTENANCE TIPS FOR DENTURES
The shape of your gums and the underlying bone structure changes over time. As such, your dentures should be adjusted yearly by your dentist. If the prosthetics do not fit your mouth properly this may lead to irritation and possibly infection. Remember to visit your dentist regularly to make sure that your dentures are in good shape.
If you have a removable denture, it is a good idea to take it off at night in order to let your gums breathe and receive moisture from your spit. This will help keep your gums healthy. Finally, remember to brush and rinse your prosthetics before putting them back in your mouth. Oral hygiene is just as important when you have dentures.