Toothpaste ingredients: What do they mean?
Have you ever read the ingredient list on the back of a toothpaste tube and thought "what do these words even mean"? We took a trip to the Jordan lab in Oslo to see the ingredients up close, and have our toothpaste experts tell us more.
What does a typical toothpaste contain?
The formula between kinds of toothpaste may vary depending on what area the toothpaste focuses on. Kids toothpaste has less fluoride and a milder cleaning agent, while some kinds of toothpaste may have ingredients to help with dry mouth, sensitivity or whitening ingredients. We asked the experts to show us typical toothpaste ingredients that are used across different kinds of toothpaste.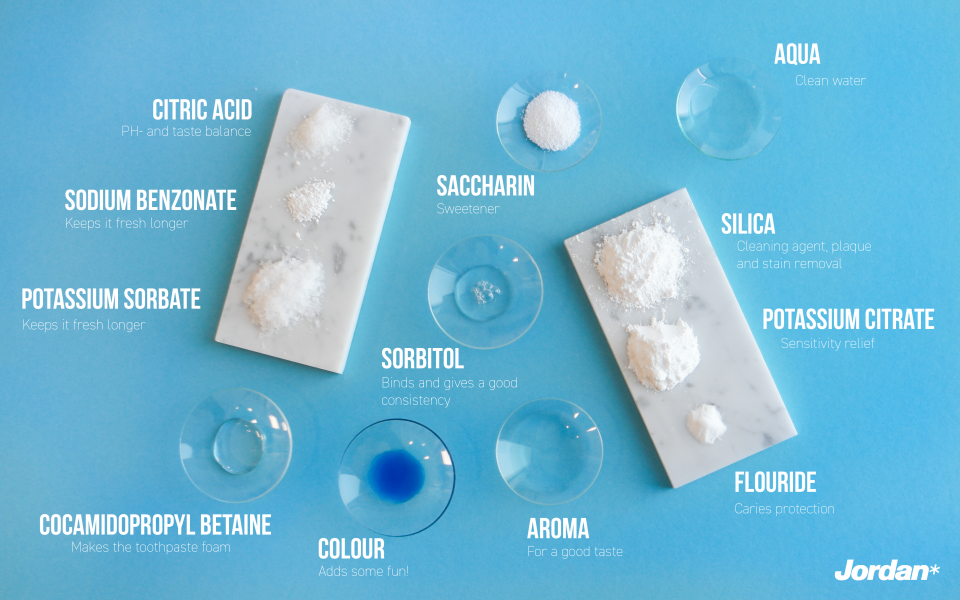 Citric acid
PH- and taste balance
Sodium Benzoate
Keeps it fresh for longer
Potassium sorbate
Keeps the toothpaste fresh for longer
Cocamidopropyl betaine
Makes the toothpaste foam
Saccharin
Sweetener
Sorbitol
Binds and gives a good consistency
Colour
Adds some fun!
Aroma
For a good taste
Aqua
Clean water
Silica
Cleaning agent, plaque and stain removal
Potassium citrate
Sensitivity relief
Flouride
Caries protection