The Nordic Swan Ecolabel: What is it and why does it matter?
It goes without saying that strong and healthy teeth are what most of us aim for when we go through our oral hygiene routine. Luckily nowadays, due to ecolabels, you don't have to make a trade-off anymore between quality products and being conscious of the environment. The Nordic Swan Ecolabel is one of those labels, but what does this ecolabel actually stand for?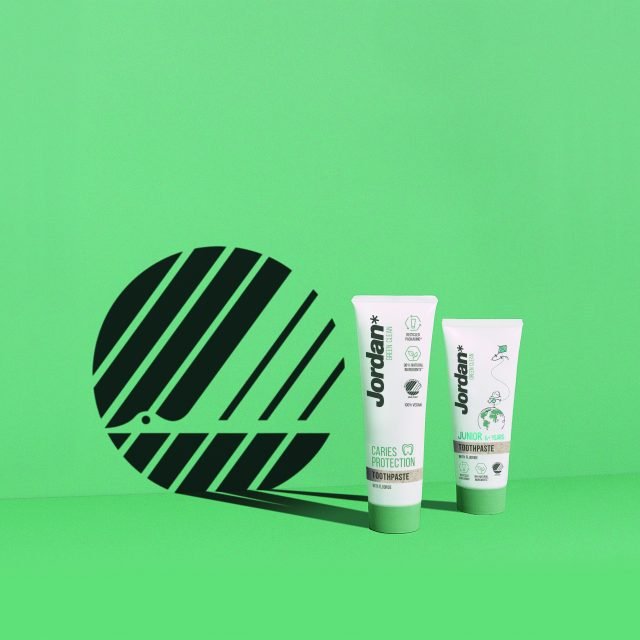 You may have seen the small swan icon on some of your favourite products, but what does it mean? The Nordic Swan Ecolabel or "Svanemerket" is an unbiased product label that can help you with your purchase decisions. With this Scandinavian ecolabel present on a product, you can be sure that the product's environmental impact has been as small as possible. And we, at Jordan Oral Care, are very proud to have this ecolabel on a growing number of our products!
What does the label represent?
A product can only carry this ecolabel when all of the requirements are met, such as the ones down below:
The product needs to meet environmental requirements throughout the product's life cycle, since the Nordic Swan Ecolabel needs to ensure that a product is sustainably developed.

The product can't contain too much or certain chemicals that are bad for your health.
These and other requirements are becoming stricter over time, which is actually a good thing. It stimulates brands to become continuously more sustainable. Already more than 25.000 products possess the Nordic Swan Ecolabel, and this number is still growing!
History of the nordic swan Ecolabel
The Nordic Council of Ministers established the ecolabel in 1989. The Nordic Swan is a voluntary ecolabel, meaning that companies have to apply for it before they can get this ecolabel on their product. You can spot the ecolabel regularly on products from Norway, Sweden, Finland, Denmark and Iceland. Furthermore, the Nordic Swan Ecolabel helped establish the Global Ecolabelling Network (GEN) in 1994. GEN is a non-profit international network for "Type 1", or independent, ecolabels.
Jordan Oral Care and the Nordic Swan Ecolabel
We are proud that a growing number of our products carry the official ecolabel of the Nordics! In terms of toothpaste, this means that there are no microplastics in the paste as well as no ingredients that could affect your hormones. There are, however, more of such and other requirements a product has to comply too before it can have this ecolabel. We are therefore excited that Jordan Oral Care has a wide variety of toothpastes that carry "Svanemerket":
Clinic by Jordan

is a series of products that you can find in the pharmacy. The Clinic by Jordan products can help you take gentle, but effective, care of your teeth:

Jordan Sensiwhite is a separate line consisting of two toothpastes, which are developed to help you if you're experiencing any sensitivity in your teeth. They provide sensitivity relief or rebuild your enamel, while whitening your teeth at the same time:

Jordan Green Clean

is a product line created by Jordan Oral Care that is focused on the development of sustainable and natural products. These products are good for your teeth and for the planet! We are therefore very proud that also all of the Green Clean toothpastes carry the Nordic Swan Ecolabel:

Jordan Kids.

Like you, we at Jordan Oral Care also think that kids are the future. It is therefore important to offer them the best possible care, in terms of oral health but also in terms of a healthy environment to grow up in. The Jordan Kids toothpastes are carefully developed and also carry "Svanemerket":
The products listed above include safe ingredients, help you to improve your oral health and are consciously developed. So, products that are not harmful to our planet and good for your teeth?! What is not to love?
Sources
The Nordic Swan Ecolabel. (2021). The offical ecolabel of the Nordic countries. https://www.nordic-ecolabel.org/the-nordic-swan-ecolabel/
Global Ecolabeling Network. (2021). GEN: The ecolabeling network. https://www.globalecolabelling.net/about/gen-the-global-ecolabelling-network/
Svanen. (2021). About EU Ecolabel. https://www.svanen.se/en/about-eu-ecolabel/