Jordan Green Clean film for cosmetics Europe series
In June 2020, a Cosmetics Europe mini documentary produced by BBC StoryWorks about cosmetics manufacturers that work to make everyday products more sustainable was released. Jordan Green Clean is one of the products that was highlighted.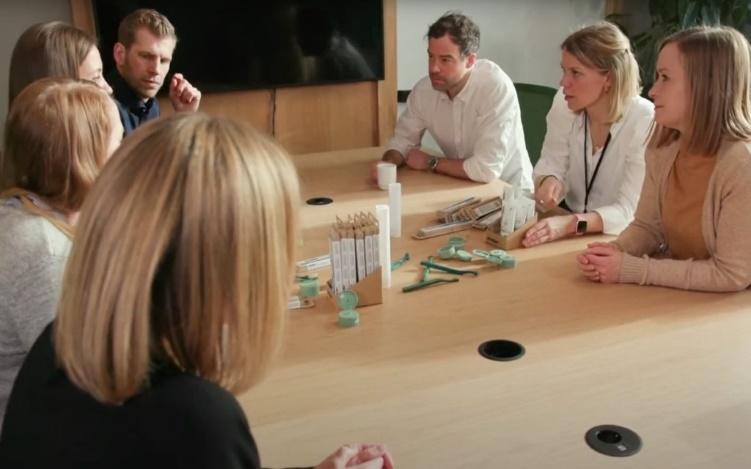 Having a film crew visit the office is not something that happens every day, but that is something Jordan got to experience. At our main office in Skøyen, Norway they interviewed the driving force behind Jordan Green Clean, a group of talented people who are passionate about sustainability.
BBC StoryWorks came to visit because they wanted to make a series consisting of mini documentaries about the cosmetics industry. They were on the lookout for a Nordic player that stood out amongst its competitors.
The mini documentary was launched in collaboration with Cosmetics Europe's Annual Conference in Brüssel on the tenth of June. It is also available on the Cosmetics Europe "Essentials for Daily Life" website. You can of course see it here:
Sustainability, effect and taste
The theme of the documentary is sustainability and the importance of products that deliver in terms of aesthetics and function.
– When we first had the idea of making a more sustainable toothpaste we went directly to the consumers. They were all interested in a more natural toothpaste. However, the most important thing for us was that we would not compromise the effect or taste of the toothpaste, says Ingvild Øiesvold Brataas, Innovation Manager Toothpaste.
Going behing the scenes
"Essentials for Daily Life" is a documentary series that gives a behind the scenes look at dynamic and innovative players within the cosmetics and personal care sector. It also explores what the industry is doing to improve people's lives, support the planet and improve products. The series is made by BBC StoryWorks and Cosmetics Europe which is a trade association for cosmetics and personal care.
Do you want to see more episodes made by BBC StoryWorks? Here you can find the whole project.
Green Clean line
Our sustainable toothbrush Jordan Green Clean was well received in the market. Therefore, we have expanded the Green Clean line with more sustainable products. In addition to Green Clean toothbrushes for adults and Green Clean Kids, we now have junior and adult toothpaste, dental floss and toothpicks.