Natural toothpaste ingredients
When making toothpaste from almost 100% natural ingredients - what does it really contain? We visited the lab in Oslo, Norway, to take a closer look on the Green Clean toothpaste ingredients.
Jordan's Green Clean toothpastes are made from 98% ingredients of natural origin. We have earlier taken a closer look at the Jordan toothpaste ingredients, but what ingredients are left when one is trying to make a more natural toothpaste?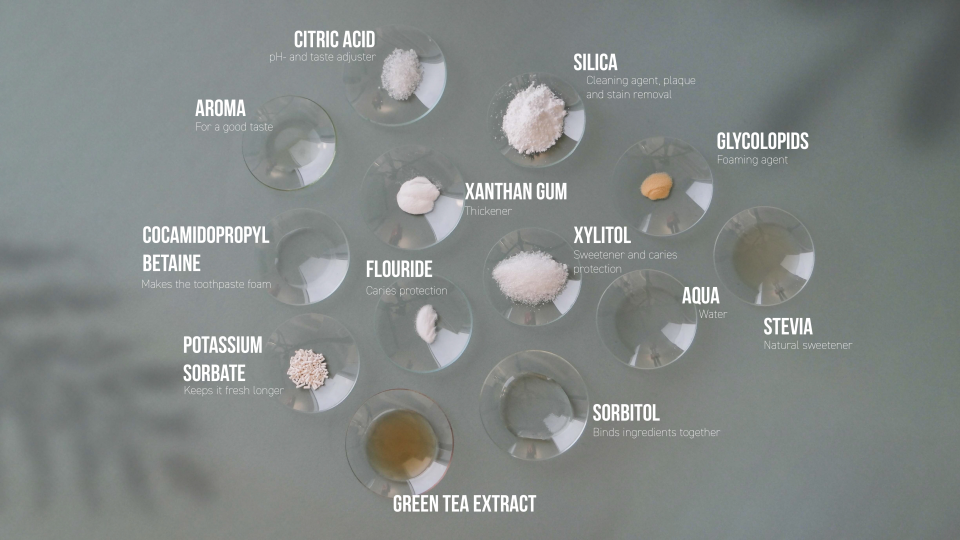 Here's a nifty list of the natural toothpaste ingredients and what they do:
Aqua
Clean water, mixes the ingredients together.
Sorbitol
Binds ingredients together. Gives body and feel to the formulation.
Hydrated Silica
Cleans teeth and removes stains and discolouration.
Xylitol
Contributes to better caries protection and sweetens.
Glycolipids
Ingredient from corn. Makes the toothpaste foam.
Xanthan Gum
For better consistency. Makes the toothpaste thicker.
Stevia Rebaudiana Extract and Maltodextrin
Natural sweeteners. Balances the taste of the toothpaste.
Chamomilla Recutita Flower Extract
Extract from chamomile tea with known antioxidant properties.
Glycerin
Avoids the toothpaste from drying out.
Sodium Fluoride
Fluoride, for caries protection and stronger teeth.
Potassium Sorbate
Against bacterial growth. Keeps the toothpaste fresh for longer.
Citric Acid
Balances the pH levels, ingredient often used in food.
Sorbic Acid
Keeps it fresh and protects against bacteria.
Aroma
For a good taste