Environmentally friendly toothpaste for kids
When choosing your kid's toothpaste, it is important to consider the ingredients. The Jordan Green Clean environmentally friendly toothpaste for kids 0-5 years contribute to healthy teeth whilst reducing the environmental impact. The addition of fluoride and xylitol provides effective cavity protection and helps strengthen your kid's teeth.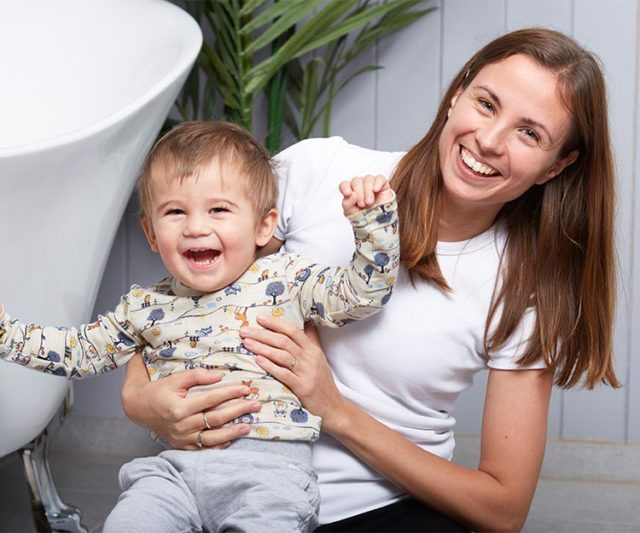 We have made a more environmentally friendly toothpaste for kids 0-5 years. The toothpaste contains more natural ingredients, is efficient against caries and has a mild fruity flavour that kids love. Just like the Green Clean adult toothpaste, our kid's toothpaste is made in the same way with children and the environment in mind.
Ingredients that protect against cavities
Choosing a toothpaste with effective cavity protection is one way to help prevent cavities in your teeth and keep them strong. The Jordan Green Clean Kids toothpaste contains fluoride and xylitol to give your child the best protection against cavities.
Here are a few more tips:
Brush your child's teeth twice a day, morning and evening
Create good habits early by making brushing fun and easy – try our brushing song and music video Happy Teeth!

Use water as a substitute for juice and sugary drinks
Every little effort counts when building daily habits to keep cavities away and the same goes for helping the environment.
Vegan with 98% natural ingredients
With the environment in mind, we have carefully chosen natural ingredients that are readily biodegradable in nature and the toothpaste therefore contains ingredients from 98% natural origin. We chose to sweeten the toothpaste by using natural stevia and added a mild fruity flavour that kids love. We also added chamomilla extract known for its soothing and disinfecting properties. Green Clean toothpaste is 100% vegan and certified by the Vegan Society.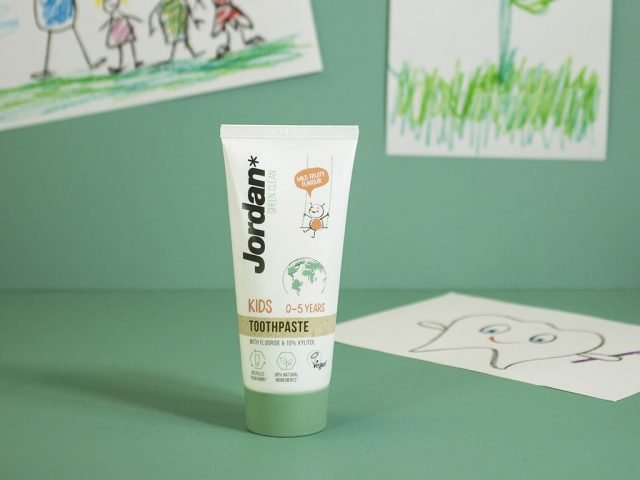 Tube made of up to 50% recycled plastic
Did you know that toothpaste packaging is commonly made using virgin plastic? This is plastic that has never been processed or used before. Jordan wants to change this by using recycled plastic from food containers. The materials can then be given a new life. The tube contains up to 50% recycled food safe plastic, originating from food containers, such as milk, water and juice bottles, that consumers have handed in for recycling.
We also have environmentally friendly toothpaste for adults and juniors 6+: